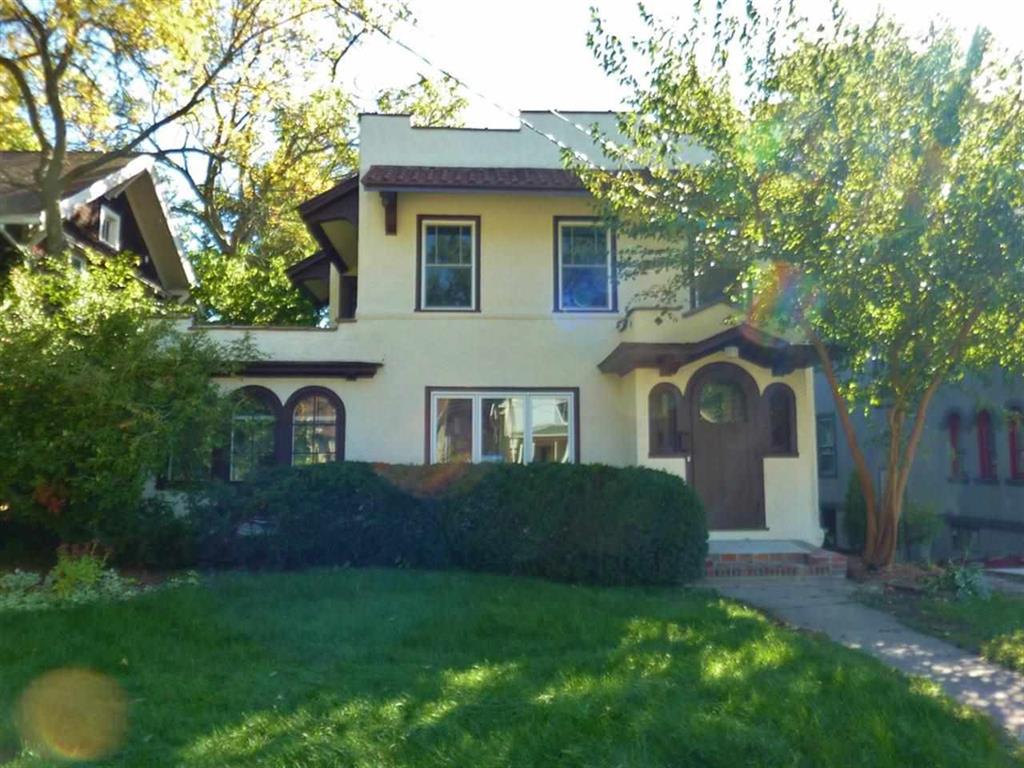 2127 Regent Street is a 1923 Spanish Mediterranean home that is well-maintained with new exterior paint, roof, Marvin windows, water softener, and an updated kitchen with new cabinets and Corian counter tops. It has a large dining room, wood-burning fireplace and sunroom providing great space for entertaining! The driveway continues around back to the attached basement garage and allows space for a turn-around so you never have to back out onto Regent St. With ample off-street parking and a phenomenal location you can leave your car at home and walk to UW campus, hospitals, Badger games, grocery co-op, coffee, and shops!
o 3 BR, 1.5BA, o 1534 Sq. Ft. o Heart of the Regent Neighborhood! *****Current price and more photos of 2127 Regent Street****
o Hardwood floors o Wood-burning fireplace o Updated kitchen with new cabinets and Corian countertops o Roof replaced: -Main roof 2003 -Porch roof and entryway roof in 2012 (installed by Ganser) o Main floor windows replaced 2004 o Marvin Infinity windows on the upper level in 2012 installed by Ganser o Furnace and water heater replaced 2002/2003 o Brand new front entryway stoop, concrete and brick masonry o Brand new water softener o Great neighborhood and active association o Groceries, liquor store, sandwich shop, pie shop, coffee shop, hair salon and galleries all on the corner o Walk to Badger games, nearby shopping, Monroe Street o Near bike path and on main bus routes o Near UW Campus, UW Hospital, St. Mary's, Meriter and downtown o Historic Neighborhood and possible tax credits for future renovations o Randall Elementary and West High, each only a couple blocks away
The neighborhood is bordered on the north and east by the University of Wisconsin campus, and within a mile of Lake Mendota. The eastern end of the neighborhood is anchored by the University of Wisconsin's Camp Randall football stadium and fieldhouse. On football Saturdays in the fall, the neighborhood is awash in Badger red and white. The central part of the neighborhood is quite a lively place. The Regent-Allen Neighborhood Commercial District has a cluster of neighborhood-oriented shops (coffee shop, food co-op, hair salon) and artistic retail galleries and shops. The western end of the neighborhood at Farley and University Avenue is anchored by Lakeside Commons shopping area and the commercial node at the intersection of Highland and University Avenue - both areas have a fine selection of eating establishments and local businesses. Stevens Park is located on the western end of the neighborhood. Many neighbors walk (or bike) and shop to support their local businesses. Hillington Green Park is one of those other neighborhood gathering places: kids playing in the summer to ice skating in the winter that makes living in this neighborhood special. Regent Neighborhood is home to two highly desired public schools in Madison: Randall Elementary and West High Schools. Both schools provide the neighborhood with a fun level of liveliness: kids walking to and from school, homecoming parades, and musicals and theater productions at our doorstep. We are a walkable and bikeable neighborhood with easy access to UW campus and hospital. The Southwest Bike path goes through the neighborhood as well of the new campus bike path, the latter is lighted with new solar-powered light fixtures. Information courtesy of:http://www.cityofmadison.com/neighborhoods/profile/71.html
Madison School District Information for 2127 Regent Street
This home is marketed by April Johnson, Broker/Listing Specialist - The Alvarado Real Estate Group. For a showing of this home or to discuss selling your home, please contact April at 608.358.7481 or april@thealvaradogroup.com.